Brexit: Has anything changed for May in 2019? | Raw Politics
Comments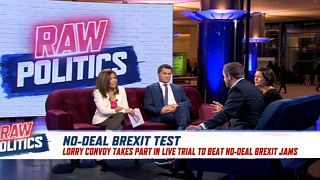 British Prime Minister Theresa May started the political year in earnest on Monday making yet another appeal for parliamentarians to back the Brexit deal she reached with EU leaders in November.
MPs are scheduled to vote on the Withdrawal Agreement on January 15 and May, who already postponed the vote to avoid defeat, is still expected to lose the ballot which could lead to the country leaving the bloc without a deal.
Meanwhile, some 200 MPs from across the party lines have written to her urging her to rule out a no-deal Brexit.
"You've got this massive impasse that was there before Christmas and is still going to continue now," Steven Woolfe, a British independent MEP, told Euronews' Raw Politics programme.
"She (May) has got a really hard job trying to convince anyone that her deal really matters," he added.
Belgian MEP Kathleen van Brempt described her "astonishment at what's happening right now."
"I think all MPs should regain a little bit of sense: either go for this deal or go for another referendum," she said.
But for Woolfe, a second referendum would "destroy democracy in Britain".
You can watch our panel debate this issue in the player above.