Brexit: May suffers two back-to-back parliamentary defeats | Raw Politics
Comments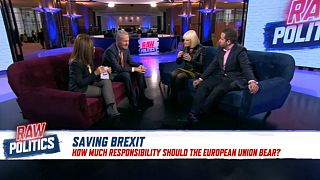 British Prime Minister Theresa May suffered her second parliamentary defeat in as many days on Wednesday.
MPs voted to approve an amendment which would force May to reveal new Brexit plans a lot quicker than initially laid out if she were to lose next week's vote on the Withdrawal Agreement.
Tuesday's vote meanwhile saw MPs limit the government's spending on no-deal preparations unless it has parliament approval.
For German MEP Hans-Olaf Henkel, the outcome of these two votes is that the chances of a second Brexit referendum "have significantly increased".
Irish MEP Marian Harkin also welcomed the two ballots, telling Euronews: "It's the British parliament taking back control and saying we will not approve of no deal."
"Whether that means they go back to the people or have a general election, I don't know (but) options are narrowing, have to be chosen," she added.
But the two MEPs, who debated the issue on Euronews' Raw Politics programme on Wednesday evening, disagreed on whether the EU should make its position clearer and appeal to British voters.
Henkel argued Europe "should help those in Britain who want a second referendum", whereas Harkin said that "Europe's hands are tied to a large extent because any interference will be called out as such".
Watch the full debate in the video player, above.