UK creates fake traffic jam of 89 lorries to test no-deal readiness
Comments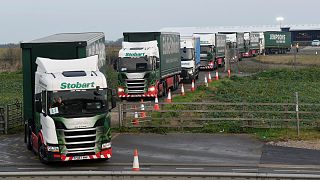 Dozens of lorries took part in a rehearsal scheduled by the British government on Monday morning to test potential traffic congestion near the channel crossing in the event of a no-deal Brexit.
The rehearsal trialled Manston airfield in Kent as a holding facility for HGVs, before trialling the 20-mile route from the airfield to the Port of Dover to calculate ways to alleviate congestion caused by potential cross-Channel disruption.
Some experts have warned of 20-mile-long queues clogging motorways near the channel tunnel after the UK leaves the EU in March.
"There will be new customs requirements that could cause particular challenges for roll-on-roll-off ferry ports which handle tens of thousands of [trucks] travelling between the UK and the EU each day," Maritime UK's David Dingle said early last year. "Adding just two minutes to the average time a truck takes to get through the port of Dover could lead to 20-mile-long traffic jams on the highways nearby."
However, Monday's rehearsal was widely criticised as a "window dressing" and "too little too late" after much fewer than the up to 150 participant lorries actually turned up.
According to the Department for Transport, 89 lorries took part in the test.
Rod Mackenzie, the managing director of policy and public affairs at the Road Haulage Association, said the test as an exercise was fine, but was very late.
It "should have been done nine months ago and repeatedly stress tested," he tweeted on Monday morning.
"Too little too late - window dressing," he added.
Manston Airport campaigner Ruth Bailey asked if the less than 90 lorries "constitute anything like a real test?"
"Surely this is no more than a PR exercise for a government that is in a complete shambles," she said. "Why not use Manston Airport for planes instead of lorries?"
Dover MP Charlie Elphicke rejected the use of the Manston airfield as a holding area to ease potential congestion, saying it should only be considered as "a last resort."
"The speed lorries can be got down to the port is too slow," he wrote. "Trying to explain to lorry drivers - many from overseas - to go there will be very difficult. The whole route plan is far too complex and will cause enormous confusion."
However, one of the drivers participating in the trial was more positive about the first test.
"So the first run went smoothly," he wrote on Twitter. "All back in the hold area at Manston Airport waiting for the second run. Coffee on the go again."
In an email to Euronews, a department for transport spokesperson said they could not yet comment on how successful Monday's rehearsal had been.
"We do not want or expect a no deal scenario and continue to work hard to deliver a deal with the EU," the spokesperson said. "However, it is the duty of a responsible Government to continue to prepare for all eventualities and contingencies, including a possible no deal."
"Any lessons learned from today and further mitigation measures will be considered carefully to ensure Operation Brock is fully functional if needed."