US President Donald Trump vows to "build up" nuclear arsenal
Comments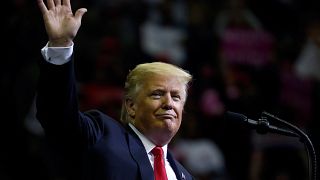 US President Donald Trump has vowed to "build up" his country's nuclear arsenal "until people come to their senses".
His comments came as he accused Russia of violating the Intermediate-Range Nuclear Forces (INF) treaty, which he has said wants the US to abandon.
The INF, signed in 1987 by then-US president Ronald Reagan and Soviet leader Mikhail Gorbachev, banned all ground-launched missiles with a range of between 500 and 5,500km.
Russia has said it will respond "in kind" if the US begins to develop nuclear weapons.
Leonid Slutsky, Chairman of the State Duma Committee on International Affairs, told Euronews that if the US withdraws from the treaty "the world will be on the verge of another round of confrontation".
He added: "The verge of war - this would not be desirable, and the responsibility of every politician on the planet is to avoid war. To make sure that the conflicts that do exist are peacefully resolved.
"This is the meaning of today's politics, and if someone acts differently, then he acts against humanity."
US National Security Advisor John Bolton is to meet Russian President Vladimir Putin for talks in Moscow today.