Nine stories from Europe to know about today
Comments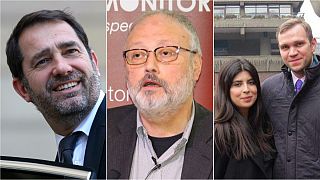 1. Turkey: probe into missing journalist looking at 'toxic materials'
Turkey President Recep Tayyip Erdogan says the probe into the disappearance of journalist Jamal Khashoggi is looking at the use of toxic materials, reports Reuters.
Erdogan said Turkish searches of the Saudi consulate in Istanbul would resume and that he hoped a 'reasonable decision' will be reached as soon as possible.
Turkey believes Khashoggi, a critic of Saudi Arabia's policies, was murdered at the consulate and his body removed. Saudi Arabia denies this.
Khashoggi has not been seen since entering the consulate on October 2.
It comes as US Secretary of State Mike Pompeo (below) arrived in Saudi Arabia to discuss the incident with King Salman.
2. Macron loyalist appointed France's new interior minister
Christophe Castaner, who headed up President Emmanuel Macron's La République En Marche! political party, has been named France's new interior minister.
There were also new culture and agriculture ministers appointed in Macron's government reshuffle, which comes after a series of resignations.
Castaner replaces Gérard Collomb, who resigned on October 3.
Other departures include environment minister Nicolas Hulot, who quit live on French radio amid frustration at the government's green policies.
3. Audi fined €800m over 'pollution violations'
German premium car brand Audi , a division of Volkswagen, said it was fined €800 million on Tuesday for violations tied to heavily polluting six- and eight-cylinder diesel engines.
"Considering these special items the Audi Group will significantly undercut major financial key performance indicators forecasted for the fiscal year 2018," Audi said in a regulatory statement.
Parent Volkswagen warned its earnings would also be affected.
Audi accepts the fine and will not lodge an appeal against it, the company said. By doing so, it said it admits its responsibility for the deviations from regulatory requirements.
Earlier this month, Volkswagen terminated the contract of Audi Chief Executive Rupert Stadler, who is under investigation for suspected involvement in emissions cheating.
4. Viking ship found in Norway
Archaeologists say they have found a Viking ship in Norway.
The ship was found 50cm underground at a burial mound south-east of the capital Oslo.
The discoveries were made by researchers from the Norwegian Institute for Cultural Heritage Research (NIKU) using georader technology.
There are indications that the ship's keel and floor timbers are preserved in the grave.
You can read the full story here.
5. France: Woman jailed over terrorist attack fraud
A woman convicted of falsely claiming she was a victim of Paris' November 13 terrorist attacks has been given a six-month jail term.
Alexandra Damien had been handed €20,000 from a compensation fund for victims after saying she had been on the terrace of the Carillon cafe when gunmen opened fire.
The 33-year-old from Paris was sentenced today after having been convicted of fraud earlier in October.
6. Belgium's first black mayor is Vincent Kompany's dad
The father of Manchester City defender Vincent Kompany has become Belgium's first black mayor, it's emerged.
Pierre Kompany, 71, won a vote to head up the community of Ganshoren near Brussels on Sunday.
"It's the first black mayor of Belgium," said Vincent. "It's never happened before. It's historic and we're all so happy. Bravo to my father."
Kompany senior arrived as a refugee in Belgium in 1975 having fled the Democratic Republic of Congo.
7. Key couple of days for Brexit
A critical 48 hours for Brexit begins today with a meeting of British Prime Minister Theresa May's cabinet.
She is set to try and rally her top ministers behind her plan for the UK quitting the EU amid rumours of discontent.
May told MPs on Monday she thought a deal with Brussels was still achievable despite hopes of a breakthrough falling through at the weekend over the Irish border.
EU officials have warned no-deal is "more likely than ever before".
It comes ahead of a summit of European leaders on Wednesday where it had been hoped a deal could be concluded.
8. British student charged with spying
A British academic has been charged for spying in the United Arab Emirates, five months after he was arrested at the end of a study trip.
Matthew Hedges (pictured, above right), a 31-year-old doctoral student at Durham University, was arrested on May 5 at Dubai airport after a two-week visit and has been kept in solitary confinement since then, his wife Daniela Tejada said last week.
Authorities said Hedges' spying "jeopardised the military, economic and political security of the UAE".
According to Durham University's website, Hedges is a doctoral student in the School of Government and International Affairs whose research interests include civil-military relations, political economy and tribalism.
9. Road collapses after floods in France
Heavy rain and flooding in southern France caused a road to collapse on Monday and a van slid into the gaping hole that opened up.
There were no casualties.
Firefighters from the Hérault department shared a video of what looked like a giant sinkhole that had engulfed the road, near an embankment and crash barrier.
At least 12 people have been killed and one person was still missing in south-west France by some of the worst flash floods in a century, local authorities said on Monday.