Viking ship discovered in Norway of 'great historical significance'
Comments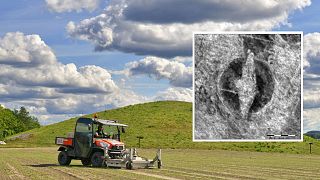 Archaeologists have found a Viking ship and a large number of burial mounds and longhouses in Østfold County in Norway.
The discoveries were made by researchers from the Norwegian Institute for Cultural Heritage Research (NIKU) using georader technology, developed by LBI ArchPro.
One of the former mounds shows the remains of a Viking ship initially buried in the mound.
There are indications that the ship's keel and floor timbers are preserved in the grave.
In a press release, Dr. Knut Paasche, Head of the Department of Digital Archaeology at NIKU, and an expert on Viking ships said: "This find is incredibly exciting as we only know three well-preserved Viking ship finds in Norway excavated long time ago.
"This new ship will certainly be of great historical significance as it can be investigated with all modern means of archaeology."
Beside the monumental burial mounds, the georadar data also revealed 5 longhouses.
"The ship burial does not exist in isolation, but forms part of a cemetery which is clearly designed to display power and influence", archaeologist Lars Gustavsen, project leader from NIKU said.
The archaeologists from NIKU are now proposing a research project to further investigate the Gjellestad ship, the site and the surrounding landscape with non-invasive methods before any excavations.