Ryanair cancels 250 flights across Europe amid staff strike
Comments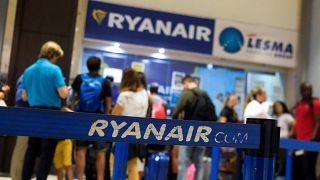 -
Ryanair has cancelled 250 flights across six European countries as staff go on strike Friday.
Airline staff in Spain, Belgium, Holland, Portugal, Italy and most recently, Germany, say they are hitting the picket lines to fight for better wages and working conditions.
On Thursday, the discount airliner pre-cancelled 190 of its 2,400 scheduled flights.
In an interview with Euronews' Bryan Carter, former cabin crew member, Sarkis Simonjan, said staff are only paid for the time they fly.
"In the beginning, it's very nice … then after, you realize the real conditions, you get disappointed. For example, you can work for 200 hours but you only get paid 90 hours because they are just paying you [for] the flight times not the duty time," Simonjan said, adding that he wasn't paid when flights were cancelled or delayed.
It's said Ryanair staff are employed under Irish contracts, the airline's headquarters, and the main demand of workers are to be employed under local contracts where they work and live. This has been a demand asked by the EU Commission to Ryanair and the company has engaged in collective bargaining with some of the unions.
Ryanair's chief marketing officer, Kenny Jacobs, issued a statement saying:
"We sincerely apologise to those customers affected by these unnecessary strikes on Friday, which we have done our utmost to avoid, given that we have already offered these unions recognition agreements, Collective Labour Agreements, and a move to local contracts/law in 2019."
"These repeated unnecessary strikes are damaging Ryanair's business and our customer confidence at a time when oil prices are rising strongly, and if they continue... We hope these unions will see common sense and work with us to finalise agreements for the benefit of our pilots and cabin crew over the coming weeks without further disrupting our customers or our flights.
"When we can successfully do deals with unions in Ireland, the UK, Germany and Italy, why are some unions in Belgium, Holland and Spain not doing similar deals?"