How do you get thrown off a flight? Do airlines have a plan for bad behaviour?
Comments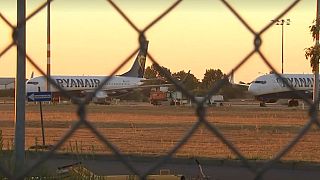 The [video of a woman being racially abused by a fellow passenger on a Ryanair flight](After the Ryanair racism debacle, Euronews takes a look at airline protocol, and what systems and training are in place to minimise the chances of poor passenger behaviour.) had many people wondering why the man, who was also aggressive towards her and the staff, was not thrown off the plane. Instead, the woman he was being racist towards was moved to another seat. Euronews takes a look at the airline protocols in place to minimise the chances of poor passenger behaviour.
'Disobeying the crew's 'air navigation order' equals breaking the law'
A professional steward of 13 years working for a UK-based airline and blogger on cabin crew life told Euronews that on most airlines, the man in the video would be considered a 'disruptive passenger'.
"There is no way this man should have stayed on the aircraft", the blogger, who goes by the pseudonym Dan Air (unrelated to the airline of the same name that ceased operations in 1992), said. "He was abusive and racist towards the lady, but also abusive towards other passengers. The staff asked him to calm down and he did not: in the UK, this is called an 'air navigation order' and breaking one on board equals breaking the law."
There are many reasons why a flight's cabin crew might decide to throw a passenger off a flight. According to Dan Air, these include being verbally or physically abusive, being drunk, interfering with aircraft equipment (such as trying to open a door mid-flight), looking sick (although in that case, you would be asked to disembark with concern regarding 'your safety', not the crew's or other passengers, he says). If a passenger tries to open a door mid-flight, Dan Air says: "We would try and divert the aircraft as quickly as possible. We may end up restraining the passenger if we have to." Regarding minor bad behaviour, such as trying to join the Mile High Club (as is known the practice of having sex in the air), he says: "We probably wouldn't divert the aircraft. I'd like to think that the embarrassment and shame of us catching them would be enough to send them back to their seats with their tail between their legs".
These rules, which are more or less are applied by all airlines, also include not listening to the cabin crew and their 'air navigation orders': 'If you break one of those, you're off', Dan Air says.
De-escalating techniques
Dan was 'bewildered as to how the cabin crew allowed him to stay on board'. Most airlines would want this man off the plane as soon as possible, he adds, because such a situation bears the risk of 'escalating once in the air'. Flight staff are usually trained to deal with disruptive passengers using 'de-escalating techniques' such as moving one passenger, speaking to the disruptive one, or bringing in another member of the crew to help. Racism such as the one displayed on the video is rare, but Dan Air is firm: just like homophobic and other abuse, it is 'unacceptable'. '99% of my colleagues wouldn't have tolerated it', he says.
Protocol?
A former Ryanair employee, now working with EasyJet, recalls that during her time working with the Irish low-cost carrier said she was not aware of the protocol for situations such as the one on the video.
"At Easyjet, after 40 seconds we would have already called the police and taken the data of this imbecile so that he gets a warning letter," she told Euronews. However, at Ryanair she said she had felt under pressure to stick to strict flight schedules and feared getting the blame for any incident that resulted in a delay.
At EasyJet, she says, if the security team gets hold of the ID of the disruptor, it can 'take him to court, ban him for a year, fine him, send him a warning letter'.
Dan Air says that at his company, too, he would feel comfortable offloading the man: 'The cabin is the responsibility of the crew. As long as we can explain that we offloaded him because he was being abusive and racist, there would be no problem.
Apology?
Although it was reported that Delsie Gayle and her family were still waiting for an apology from the airline six days after the incident, Ryanair maintains that it sent her an apology "in writing"
In a statement on October 26, the company declared having reported the racist abuse and the incident to the Essex Police in Stansted Airport at 9 a.m. on October 21, adding that it "only became aware of this video" late on October 20.
The airline's Head of Communications Robin Kiely said in a statement: "We again extend our very sincere apologies to this passenger for the regrettable, and unacceptable remarks that were made to her by an adjacent passenger, and we believe that by reporting this matter immediately to the Essex Police and by apologising in writing to this customer early on Sunday morning, Ryanair treated it with the urgency and seriousness it warranted."
Delsie Gayle rejected the abusive passenger's apology, who was named as David Mesher and said he had lost his temper "a bit".
The media furore has inspired an online petition for the airline to 'apologise and compensate' Delsie Gayle for her ordeal.