Barnier talks with Spain about Gibraltar ahead of Brexit
Comments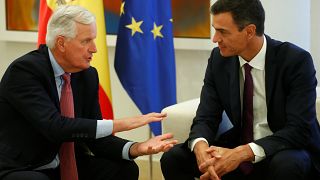 Talks over a divorce deal with Britain are continuing in a spirit of good cooperation.
That from the EU Brexit negotiator Michel Barnier as he arrives in Spain for talks about Gibraltar.
Although the tiny British territory is not part of the EU customs union, businesses thriving there, fear regulation of the border could become more rigid and its economy relies on workers crossing the border with Spain.
He's meeting with the Spanish Prime Minister Pedro Sánchez and the Spanish Foreign Minister Josep Borrell.
Afterwards Michel Barnier tweeted that Madrid will have the full support of the EU in its talks about the future of the island, after Britain leaves the EU in March 2019.
Meanwhile, Britain's prime minister says she wants to have a deal for the good of everyone in the country. "It's ensuring that we get that good deal from the European Union, which is good for people in the UK, wherever they live in the UK. That's what's important for us and that's what I'm focusing on. It's the future of people in the UK that matters".
Meanwhile, Michel Barnier has already met with the Secretary of State, Dominic Raab earlier this month, when he reprimanded Raab about the side negotiation letters sent out to the other 27 EU member states on transport in case of a no-deal Brexit.