London Mayor calls for a second referendum on Brexit
Comments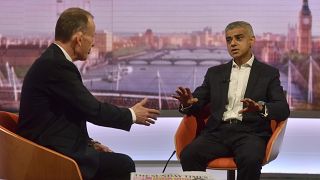 The London mayor, Sadiq Khan is calling for another referendum on Britain's European Union membership. He says the prime minister's handling of Brexit negotiations has become "mired in confusion and deadlock" and was leading the country down a damaging path. Britain is due to leave the bloc next March.
Sadiq Khan, London Mayor says, "Unfortunately, we're at a position now where the government's embarking on negotiations that are going to lead to one of two things: either a bad deal, and that includes the possibility of us leaving the EU without knowing the future relationship with the European Union, or no deal. 
And both those options would be deeply damaging to London and the country. So what I'm saying to the government is for the first time, the British public should have a say on the outcome of those negotiations, including the option of staying in the EU."
Prime Minister Theresa May has repeatedly ruled out a second referendum.
She says members of parliament will get to vote on whether to accept any final deal.
Meanwhile, speaking on BBC One's The Andrew Marr Show, Michael Gove the Environment Secretary thinks her plan, agreed at Chequers in July is the right one for the moment. He says, "I felt it was interesting and troubling that he wants essentially to frustrate the vote that we had two and a half years ago. 
People voted clearly; 17.4 million people voted to leave the European Union and Sadiq is essentially saying, 'stop, let's delay that whole process, let's throw it into chaos', and I think that would be a profound mistake."
Anti- Brexit protesters in Dover continue to demonstrate with the thought of chaos if there's a disorderly Brexit with Dover being the lifeline for the economy. But with the months ticking by for London and Brussels to thrash out a deal, Britain's preparing plans for a no-deal Brexit.