Italian jailed and fined after unwittingly driving migrants across border with BlaBlaCar
Comments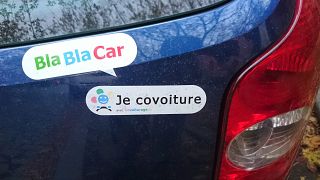 -
An Italian man was given a suspended nine-month jail sentence and a suspended hefty fine for unknowingly driving undocumented migrants over the border through the car-sharing service BlaBlaCar.
The driver, Andrea, and his French girlfriend planned on driving from Greater Paris — where they live — to Rome in early August. They advertised for passengers on the popular carpooling website Blablacar in order to split the cost of the trip.
They picked up two passengers and headed for the Italian capital. They were stopped at the border at the Mont-Blanc in the Alps and asked by Italian police to show their papers.
The two passengers did not have the necessary papers and were deported. Andrea was arrested, his car was confiscated and he had to appear in front of a judge the following day.
He was given a nine-month suspended jail sentence and a suspended €24,000 fine for helping with "illegal entry" on Italian soil.
'Accomplice of illicit traffickings'
Andrea claims he was unaware his passengers were undocumented migrants and says the responsibility lies with BlaBlaCar.
"A large platform like BlaBlaCar, worth €85 million, has to check its customers' documents. It cannot let drivers transport complete strangers simply by knowing a name and a telephone number," Andrea told Euronews.
"Any person can get into the car and carry anything with them. This is scandalous. BlaBlaCar becomes an accomplice of these illicit traffickings," he added.
This is not the first time BlaBlaCar users have been arrested and sentenced for unknowingly ferrying undocumented migrants through European Union borders. Similar cases took place in Germany in Hungary.
'It doesn't end there'
In its FAQ, the company says drivers should ask to check their passengers' papers before setting off on a cross-border trip to avoid being "stuck at the border" but some have questioned whether this is enough — or even legal — as passengers could also be carrying illegal items and substances in their bags.
"We want to let everyone know that people need to be careful with these sites and especially BlaBlaCar which does not explicitly mentions the risks its drivers run into by giving a lift to strangers," Andrea told Euronews.
"There is little transparency about their responsibility," he added.
Andrea has decided not to appeal because it's "too risky and too expensive" but indicated he would be looking to seek damages from BlaBlaCar.
"It certainly doesn't end there," he warned.
Euronews has reached out to BlaBlaCar for comment.