NGO volunteers aiding migrants charged in Greece with human trafficking and espionage
Comments
By Sinead Barry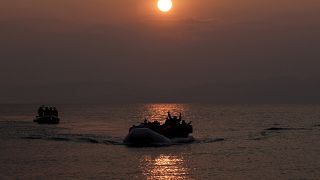 Two volunteers of Emergency Response Centre International have been arrested in Greece in an investigation that implicates 30 members of various NGOs.
German citizen Seán Binder and Syrian national Sarah Mardini were arrested in Greece in February, released, and rearrested last week.
According to the National Greek Police service, the two volunteers provided "direct assistance to organised circuits of illegal trafficking." They are faced with charges of espionage, money laundering, establishing and joining a criminal organisation, offending the Code of Immigration, and legislation on electronic communication.
Police said the organisation was actively involved in facilitating the entry of illegal migrants into Greece for the ultimate goal of making a profit.
The two have denied all charges and allegations.
One former ERCI volunteer, who worked with both Binder and Mardini for more than a year and requested anonymity, told Euronews that Binder was born in Germany but spent all his life in Ireland.
The friend and former volunteer expressed on behalf of the detained that they "trust the legal procedures" and hope that "justice will prevail". He added that the detained, in his view, are just "two young people who thought that it was their duty to help people in need".
Binder's family have reached out to the Irish authorities for help but were told that there was little that could be done as the 24-year-old is not an Irish citizen.
A spokesperson for Germany's Federal Foreign Office told Euronews that the embassy "will provide consular assistance to the detained."
Mardini, 23, is a Syrian national with refugee status in Germany. In 2015 she was labelled a hero for saving a boat of 18 people from drowning by pulling the water-logged boat for hours to safety alongside her sister.