Is Britain swept by Brexit regret? Euronews answers
Comments
By Vincent McAviney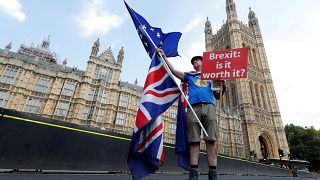 A new analysis published the Observer newspaper shows that more than 100 seats that backed Brexit now want to remain in the EU, but is Regrexit pointless? Euronews' UK Correspondent answers.
Have public views changed since the vote?
In the study commissioned jointly by Hope Not Hate, an anti-racism group, and Best for Britain, which is campaigning against Brexit, researchers at Focaldata looked at two YouGov polls. One conducted prior to Theresa May publishing her Brexit plans and the other afterward.
Their research claims that of the 632 Westminster constituencies in England, Scotland and Wales, 112 had switched from Leave to Remain. Focaldata believes there are now 341 seats with majority Remain support up from 229 at the 2016 Referendum. One seat has switched support in Scotland, 14 in Wales and 97 in England.
Leave won the 2016 referendum with 52% of the vote, this data suggests that if the referendum was re-run Remain would win with 53%.
Do we know why?
The constituencies that have flipped tend to be Labour supporting ones in the North of England and Wales, the former industrial heartlands these areas still have economies heavily based on manufacturing. Some areas like Sunderland surprised many in 2016 when they voted to Leave despite having international employers locally like Nissan which warned them of the dangers for their car factory.
This analysis suggests Leave voters in these areas are now doubtful of the promises made during the 2016 referendum campaign and have swapped their vote.
Many young people and people from ethnic minorities are also swinging behind the Remain vote. The latter may be due to a rise in Hate Crime across the UK over the past two years.
What impact could this have on parliament and negotiations?
Whilst some are calling and campaigning for a second referendum the government is still adamant there will not be one. However, if there is more evidence of this switch it will be something Theresa May will have to take into account over the next few months as she tries to get her Brexit deal through parliament and the other EU 27.
The most interesting impact though will be on Jeremy Corbyn to soften the party's opposition to reconsidering Britain's EU departure.