Brexit: UK 'confident' of October deal
Comments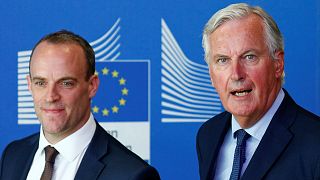 Britain says it's confident that it can still reach a divorce agreement with the EU in October.
This from the UK's Brexit Secretary, Dominic Raab, who's been meeting his negotiating counterpart in Brussels, Michel Barnier.
But he admitted that sticking points remain.
"There are still gaps, we've had an honest conversation about those," Raab told reporters.
"Equally, on our side, we feel we've shown the ambition, the energy and the pragmatism. I know how committed Michel is to securing a deal and if we have that ambition, that pragmatism and that energy on both sides, I'm confident we can reach the agreement in October."
Agreeing the terms of Brexit - and the UK's future ties with the EU - is proving to be a complicated and messy affair.
How to avoid border checks on the Irish border, a remaining issue. All the delays fuel fears of the UK crashing out with no deal at all.
The EU's negotiator says agreement needs to be reached no later than early November.
"We have agreed that the EU and the UK will negotiate continuously from now on. As I said in July, we are more, far more advanced in defining that common ground for foreign policy and security, than for the economic relationship," said Michel Barnier.
The British government's due to release a set of papers on Thursday - laying out the impacts of a 'no deal' Brexit. That chaotic divorce outcome that's still very much a possibility.