Mali: voters go to polls for run-off presidential election
Comments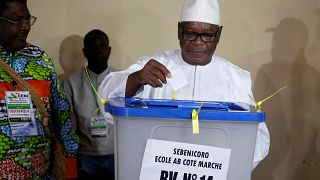 Malians started voting in a run-off presidential election on Sunday, with the incumbent Ibrahim Boubacar Keita expected to beat the opposition challenger for a second five-year term.
There were no serious incidents reported to dampen the turnout, just the rain and the threat of violence which could keep people away.
It's despite a surge in ethnic and militant violence during the 73-year old's term in office.
There are 36,000 troops deployed to provide security.
In last month's first round, Keita took 41 percent of the vote against nearly 18 percent for Soumalia Cisse - the main opposition leader.
Keita's government has been accused of voting fraud by Cisse, even though the constitutional court has upheld the result.
Cisse also blames Keita for the worsening violence and accuses his government of rampant corruption
The opposition organised a march on Saturday to 'warn against fraud' from the results of the first round.
Around a hundred supporters chanted "No to electoral fraud" and called for transparency.
Armed troops watched over the protest but didn't intervene.