Mali presidential race enters decisive polling day
Comments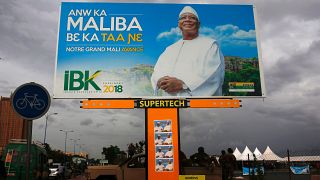 The final round of voting in Mali's presidential election, with Ibrahim Boubacor Keita in pole position to win a second term.
The Constituional Court has dismissed accusations of ballot fixing during the first round. But Keita's government acknowledges almost a quarter of a million were unable to vote for "various reasons."
He's up against Soumalia Cisse, leader of the opposition and currently lagging far behind in the polls. But he insists he could still win to prevent the country sinking into chaos.
Whoever becomes Mali's new President faces the difficult task of relaunching the peace agreement signed in 2015 and the former Tuareg-dominated rebellion, whose application is accumulating delays.
The country, celebrated for its cultural influence with its legendary cities like Timbuktu and its world-famous musicians, has become significantly impoverished.
An EU observation mission has called for "greater transparency" and "greater voting access" on the final polling day.