Voters across Mali set to vote in presidential election
Comments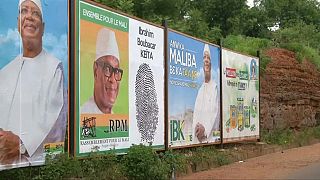 It has been five years since people in Mali last elected a president — a period tainted by violence from militants, separatists, drug traffickers and the country's own security forces.
This weekend voters will have the chance to deliver their verdict on President Ibrahim Boubacar Keita, who is seeking a second term.
"There is still a lot to do. That's why I am soliciting the Malian people to give us another term, not because I'm thirsty for power," Keita said at a rally on the banks of the Niger river.
Power transfers have generally been smooth in this West African republic and Soumalia Cisse, one of 23 opposition candidates, appears to be the 73-year-old Boubacar's closest rival.
"There is a need to change the president, the one now in power and who is not up to the job," said one voter, Adama Traore. 
"In this country, indeed, there is a lot of insecurity, young people are unemployed.
"He doesn't satisfy our needs. This is why I am going to vote against the regime which is in power."
Cisse seemed to acknowledge this mood in his final rally on Friday: "Everywhere I've been I see a desire for change. Malians want nothing more to do with this regime."
The final days of campaigning were marred by an attack on another candidate's convoy and renewed killings of civilians.
Eight million people are registered to vote in Sunday's election, with polls opening at 0800 GMT and closing ten hours later.
Turnout is traditionally low in Mali during the first round of voting
If Keita or any of his rivals fail to secure more than half of the ballots, a second round will take place on August 12.