A natural blue wine is selling well in southern France
Comments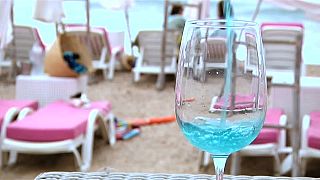 A glass of blue chardonnay with your meal? Well, it's certainly something different!
The Spanish wine starts off white but is passed through red grape pulp which naturally turns the colour to turquoise.
The Mediterranean's restaurants and beach bars in Sete have so far drunk through 2,000 bottles of the first consignment this summer.
The entrepreneur creating it, says it has cherry, raspberry and passion fruit aroma's and has already put in an order of 35,000 bottles which he reckons he can sell within the next two months.
But it's not to everyone's tastes.
Commercial Director of Vindigo wine, Rene Le Bail says its proven really popular. "It all went crazy after being on TV so we all switched our mobile phones off, I decided to get away, leave my phone at home, I told my wife that we were leaving, that we couldn`t stay. We knew that it would generate some buzz but not that much, it was crazy, everyone contacted us the following day to see Vindigo saying they wanted to taste Vindigo".
There are strict regulations on labeling wine in France which is why Rene has named it Vindigo.
He added they've received orders from France, Belgium and Germany and says demand has also stretched from Russia, the Caribbean and China.