Millions of litres of Spanish wine bottles sold off as French rosé
Comments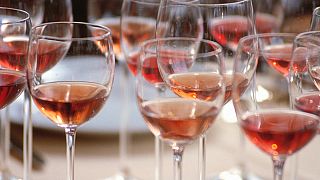 French authorities have uncovered millions of bottles of rosé imported in bulk from Spain being passed off as French, with at least one producer facing prison and fines of up to €300,000.
Up to 4.6 million bottles of Spanish rosé wine have been labelled as French and sold in French cafes, hotels and restaurants. Officials say the labels were either deceptive or false.
It follows a two-year investigation by France's Directorate-General for Competition, Consumer Affairs and Fraud Controls (DGCCRF) to check that wines being imported into France, mainly from Spain, were being properly labelled.
The report revealed, "A total of 179 establishments were audited in 2016 and 564 in 2017, specifically on the subject of foreign wines," it stated. "Twenty-two percent of the establishments visited in 2016 and 15% of the establishments visited in 2017 were subject to non-conformities ranging from confusing to 'Francisation', the latter being an offence that is the subject of criminal penalties".
The investigators said, "These can have significant negative repercussions and significant economic consequences. The checks showed that the regulations were correctly applied in most cases. Serious deficiencies have been noted, however, which may involve large volumes."
While most wines were correctly labelled, up to 3.45 million litres of Spanish wine was disguised as French.
The most common errors involved obscuring the true origin of the wine or sticking a French symbol such as a tricolour on the bottle with labels such as "Produced in France" or "Bottled in France".
Other offences involved hiding the true origin of bag-in-box wine on the underside of the packaging or even beneath the handle.
Responding to reports that the amount of wine involved was as much as 7 million litres, the head of the young wine-producers organisation in the Hérault region, Remi Dumas, said: "For those who wonder why we demonstrate, for all the wine-producers who aren't bothered by our calls for protest! Consumers open your eyes! 10m bottles of fake rosé from Spain."
Alexandre Chevallier of the General Directorate from the DGCCRF told the Le Parisien newspaper, "We've identified fraud at four trader-producers."
The government body behind the report says anyone found guilty of such fraud could face two years in jail.
Earlier this year the French anti-fraud body revealed that as many as 66.5 million bottles of wine had been passed off as superior Côtes du Rhône from 2013 to 2016, in a scam that affected UK drinkers as well as French.