French wine: Red, white and now blue
Comments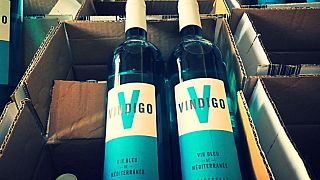 A new wine has appeared on French shelves and it's neither red nor white nor rose, but a dazzling shade of turquoise.
The Chardonnay, produced by oenologists in Spain, goes by the name of "Vindigo" and is "100% natural" despite its hue, according to its vendors.
"It's 100% Chardonnay, ripened in Andalusia, but the grape variety is French," Aude, a partner at the company selling the wine in France, told Euronews.
She explained that the wine gets its colour at the "maceration" stage when it is filtered through a pulp of red grape skins containing anthocyanins.
Anthocyanins are water-soluble pigments, present in fruits like blackberries, blueberries and cherries.
At 11% alcohol content, Aude said the blue wine is a perfect drink for summer and can also be turned into a cocktail with ice and prosecco.
This is not the first time entrepreneurs have tried to bring blue vino to France — in 2016, a Spanish startup called Gik touted what it said was the world's first blue wine.
After a small setback over the wine's label — the product's "blue wine" tag is not allowed under EU regulations, as it does not fall under 17 predefined wine categories — the company says the wine is popular and sold more than 50,000 bottles in France this summer.  
In its first three weeks of trade, the small company selling the Vindigo, based in the southeastern port town of Sete, has been "inundated" with orders.
The four-person team has preorders accounting for nearly all 35,000 bottles they started out with, Aude said.
Does she think the product will be accepted by consumers in a country with wine ingrained in its culture? "It won't be to everyone's taste," she said, but added the wine's colour "can't help but catch people's eye".