Germany's winemakers relish in heatwave
Comments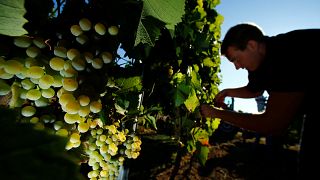 Not everyone is complaining about the heatwave, which has swept across parts of Europe — Germany's winemakers are harvesting early thanks to the hot and dry weather.
Mathias Wolf, who manages a vineyard in Loerzweiler— 40 kilometres southwest of Frankfurt — told Reuters the grape harvest was two weeks ahead of schedule this year.
Federweisser, an unmatured wine, is set to hit the shelves on Friday, according to Wolf.
However, the heatwave has not benefitted everyone.
Germany's wheat crop is expected to slump about 25% on the year, the German farmers' union said last week.
The union has also demanded €1 billion of support from the government for failed crops caused by the heat and drought.
But this year's unusual weather patterns have also hindered winemakers across Europe.
Hailstorms ravaged parts of the Bordeaux and Cognac wine regions in May, which destroyed thousands of hectares of vines.