Kim Jong Un strips down in the Korean heatwave
Comments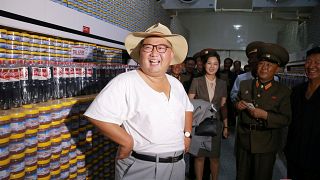 Copyright

North Korea's Korean Central News Agency
Kim Jong Un has been photographed in a more relaxed style as a heatwave hits North Korea.
Temperatures reached 37.8C across the country this week.
Kim toured a fish processing factory and wore a white t-shirt and hat whilst his wife held his jacket.
The outfit was a stark departure from his usual black attire.
In the images, which were distributed by the North Korean news agency KCNA, Kim inspects several products, including 30 different types of pickled fish.
According to state media, Kim called the stockpiles of food a "spectacular view".
A United Nations report last year said that an estimated 41% of the country's population is undernourished.