Thousands march against spycam epidemic in South Korea
Comments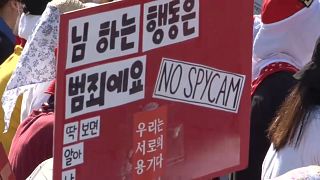 Tens of thousands of South Korean women have been taking part in a mass protest in Seoul against secretly-filmed spycam pornography.
Many kept their faces covered due to fears over their personal safety.
Since May, the monthly demonstrations have shattered records to become the biggest-ever women's protest in the country - unleashed following the #MeToo.
"I've always been under the fear that there could be 'molkas' (secret spy cameras) at the toilets in the company building or underneath the desks," said Ellin, one of the organisers of the protest.
"But not only at the company building, the threat has always been also at public bathing areas, gyms, swimming pool changing rooms, accommodations, and on the street."
The number of spycam crimes reported to police surged from around 1,000 in 2010 to more than 6,500 last year.
Some of the women who appeared in the videos have taken their own lives.
Videos are widely shared in internet chatrooms or used as adverts for prostitution.
The offenders have included school teachers, professors, doctors, church pastors, government officials, police officers and even a court judge.
Fed up of living in fear, women are fighting back.... Some shaved off their hair in a protest.
They are calling for harsher punishments for perpetrators and tougher regulations on the sale of high-tech spycam equipment.