Europe briefing: Five stories to know about today
Comments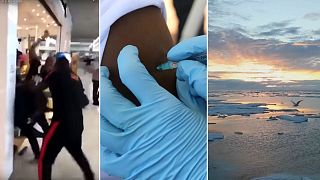 1. Airport fight between rappers prompts flight delays in Paris
Two French rappers and nine members of their entourages have been arrested after a punch-up broke out between the pair at Paris' Orly airport.
Footage uploaded to social media network Snapchat on Wednesday showed onlookers screaming as rappers Booba, Kaaris, and their minders crashed into cosmetic stands while swinging punches and kicking each other.
Airport operator Aéroports de Paris said in a statement that the "passenger dispute" forced the closure of one terminal and led to brief flight delays.
2. WHO sends staff to tackle fresh ebola outbreak in the DRC
The Geneva-based World Health Organization (WHO) is moving staff to the Democratic Republic of Congo to tackle a new ebola outbreak.
Four people in the east of the central African country have so far tested positive for the viral disease, coming days after another outbreak that killed 33 people in the northwest was declared over.
"We will fight this one as we did the last", WHO chief Tedros Adhanom Ghebreyesus said in a tweet on Wednesday, referring to a previous outbreak across west Africa which killed more than 10,000 people from 2013 to 2016.
3. Record temperatures hit the Arctic Circle
Temperatures of up to 32 degrees Celsius have been recorded in the Arctic Circle.
The stunning figure was recorded in Banak, Norway, on July 30. The peninsula usually only averages about 16 degrees in the summer.
"It is the first time in August we've had a temperature over 30 degrees ... so of course we are concerned," journalist Knut Satre told Good Morning Europe's Tesa Arcilla.
4. Relatives of Greek wildfire victims launch legal action
Relatives of a two people who died in wildfires that devastated Greece's Attica region last week have filed a lawsuit against Greek authorities for negligence.
Vassilis Katsargyris, 70, and his neighbour Maria Pagomenou, 73, died while trying to flee the flames in the seaside town of Neos Voutzas, near Athens.
The suit is expected to elicit a wave of similar complaints in the weeks to come as criticism mounts over the government's handling of the disaster.
5. Europe remembers Roma's WWII victims
Events are being held across Europe to mark Roma Holocaust Memorial Day, which is held every year on August 2.
It is estimated that between 220,000 and 500,000 Romani and Sinti — Romani from Central Europe — were murdered by the Nazis and their allies during World War II, accounting for up to half of their total population at the time.
Their sacrifice is remembered on August 2, when 3,000 Romani people, including children, were murdered in a gas chamber at the Auschwitz-Birkenau Nazi concentration camp on the same date in 1944.
As it happened on Thursday, August 2:
This is how we covered key developments this morning: