Roma Holocaust Memorial Day: EU commemorates 'forgotten victims'
Comments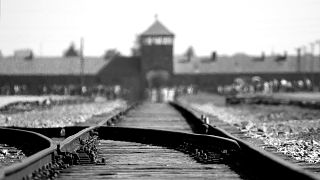 Roma Holocaust Memorial Day, held every year on August 2, remembers the murders of hundreds of thousands of Romani by the Nazis and their allies during World War II.
No official figure exists, but it is estimated that between 220,000 and 500,000 Romani and Sinti — Romani from Central Europe — were killed during the war, accounting for up to half their total population at the time.
Their sacrifice is remembered on August 2 to coincide with Holocaust killings in 1944, when 3,000 Romani people, including children, were murdered in a gas chamber at the Auschwitz-Birkenau Nazi concentration camp on the same date.
Nearly 20,000 people were murdered in Auschwitz. The vast majority of the Roma Holocaust victims were shot dead or died as a result of poor conditions after being sent to internment camps.
'Forgotten victims'
Roma persecution by the Nazi regime began in 1933 which later introduced discriminatory legislation including forced labour and sterilisation, but it took until 1979 for German authorities to declare their persecution as "racially motivated," enabling them to request compensation and have their plight officially acknowledged.
"The Roma are forgotten victims of the Holocaust for many Europeans. Remembering their historical persecution reminds us of the need to tackle the challenge they still face today and which are too often overlooked," Frans Timmermans, EU Commission first vice president, and Vero Jourova, EU Commissioner for Justice, said in a joint statement.
"Seven decades on, Sinti and Roma still face hatred, violence, discrimination and racism on a daily basis. And many still do not have access to basic necessities such as decent housing, education and heathcare," they wrote.
About 80% of the European Roma population "still live at risk of poverty," according to an April 2018 report by the European Union Agency for Fundamental RIghts.
The agency also highlighted that the "most heinous forms of anti-Gypsyism, hate-motivated crime and harassment, continue to hamper Roma inclusion" with one out of three Roma surveyed reporting having been the subject of some form of harassment.
Timmermans and Jourova will meet with with survivors and young Romanis on Thursday in the former Auschwitz-Birkenau camp. Other events have been scheduled across Europe to mark the occasion.