Three killed as Zimbabwe troops, protesters clash after vote
Comments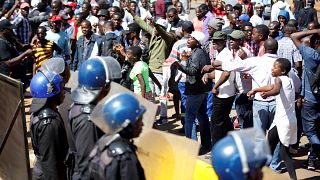 Three people have been killed in Zimbabwe's capital Harare after forces opened fire on hundreds of opposition protesters amid rising tension over the presidential election, police said.
Police spokeswoman Charity Charamba told state broadcaster Zimbabwe Broadcasting Corporation (ZBC) that the three people killed in the clashes had yet to be identified.
The government said the army was deployed in the capital on Wednesday to help police restore order, as protesters took to the streets, accusing the electoral commission of rigging the vote in favour of the ruling party.
The unrest started soon after Nelson Chamisa, leader of the opposition Movement for Democratic Change (MDC), declared that he had won the popular vote.
After burning tyres in the streets, scores of his supporters attacked riot police near the Zimbabwe Election Commission (ZEC) headquarters, as officers responded with tear gas and water cannons. 
"I was making a peaceful protest. I was beaten by soldiers,"  Norest Kemvo, who had gashes to his face and right hand, told Reuters. 
"This is our government. This is exactly why we wanted change. They are stealing our election."
President Emmerson Mnangagwa said the violence was meant to disrupt the election and blamed the MDC leadership.
The election was the first since Robert Mugabe was forced to resign after nearly 40 years in power.
It  pitted his successor Mnangagwa — a one-time Mugabe ally — against Chamisa, a 40 year-old lawyer and pastor.
European Union observers have listed several problems with the vote, including media bias, voter intimidation and mistrust in the electoral commission.