Mass airport brawl between rap stars closes terminal and delays flights in Paris
Comments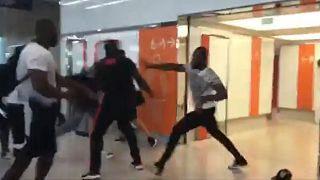 Two of France's biggest rap stars were arrested after a mass brawl forced a terminal to close at Paris' Orly airport.
Alarmed passengers filmed the fight between musicians Booba and Kaaris in the departure lounge of the airport, posting videos and photographs on social media.
The clips show a mass of people fighting in a shop, before the brawl spills out into a seating area.
Police were called and the two men were arrested, alongside nine members of their entourages.
Airport management confirmed the terminal was temporarily closed as a result of the fight, which caused delays to departing flights.
The two music stars had previously collaborated before publicly falling out and becoming fierce rivals.
They were travelling to Barcelona for a concert when the brawl took place.