Agriculture Ministers from G20 criticise protectionism
Comments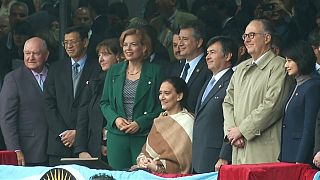 Agriculture ministers from the G20 countries criticized protectionism and vowed to reform World Trade Organization (WTO) rules.
The meeting in Buenos Aires came amid rising trade tensions with China and the US placing retaliatory tariffs on American farmers after President Trump put duties on Chinese goods.
Julia Klöckner, German minister of Food and Agriculture says, "If one wants to do business, trade, at an even level, it can't be a one-way street, trade is a way of protecting peace, if one cooperates, if one communicates with people from other countries and nations, I think fair trade is a good answer to protectionism."
She also says, there was no guarantee the bloc would import the quantity of soybeans that Washington expects. But the ministers say they agreed to continue reforming agricultural trade rules.
The Argentine Agriculture Minister Luis Miguel Etchevehere says, "There will always be controversies. What differentiates us from the past is the way to solve them. Independent of all the news there was surrounding (the meeting), we managed to reach a unanimous consensus. And since the meeting was taking place, all the countries had bilateral meetings to continue trying to find common ground.''
The ministers, did not specify which measures they were referring to in the statement and when asked, the German Minister said they did not want to "criticize a single country."