Trump ramps up China trade war with more US tariffs
Comments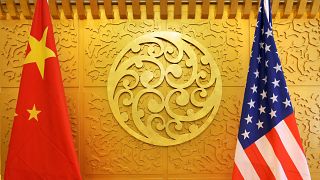 Copyright

REUTERS/Jason Lee
Donald Trump has raised the stakes in his administration's trade dispute with China by threatening tariffs on a further $200 billion (€170 billion) of imports – prompting an immediate threat of retaliation from Beijing.
The US president has ordered preparations for levies of 10 percent on a range of products, which could be imposed from September. US officials have released a list of thousands of Chinese imports being targeted, including hundreds of food products as well as tobacco, chemicals, coal, steel and aluminium.
Consumer goods are also on the list, ranging from car tyres and furniture to pet food and golf bags.
"For over a year, the Trump administration has patiently urged China to stop its unfair practices, open its market, and engage in true market competition," US Trade Representative Robert Lighthizer said in announcing the tariffs, saying Chinese behavior was putting the future of the US economy at risk. He added that there was "no justification" for Chinese retaliation.
China's commerce ministry described the proposed US tariffs as completely unacceptable, adding that Beijing would have to respond to measures that hurt America's own interests.
Shares on Asian markets fell on Wednesday in response to the announcement.
Last week saw tit-for-tat moves by the two economic superpowers. Washington imposed 25 percent tariffs on $34 billion (€29 billion) of Chinese imports, which was followed by reciprocal action by Beijing which responded with matching tariffs on US exports to China.
Trump has said he may ultimately impose tariffs on all €500 billion worth of Chinese goods imported into the United States.
There are fears that an escalating trade war between the US and China could hit global growth – and punish American businesses and workers who Trump claims he is trying to protect.
US retail bodies, employers organisations and leading figures in Trump's Republican party have condemned the move.
The US Chamber of Commerce, which has backed the US president over tax cuts and business regulation, has described the tariffs as "taxes" which will raise costs of everyday goods for Americans.