European travellers stranded for days at Montreal's Trudeau airport
Comments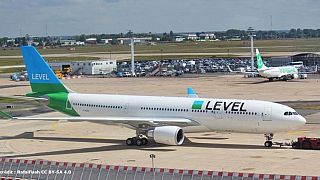 More than 100 passengers have been stuck in Montreal's Trudeau airport since Saturday after their flight to Europe was cancelled.
On Monday, the Spanish budget airline Level cancelled their flight to Paris for the second time.
Hungarian traveller Adrienn Nagy told the Canadian broadcaster CBC News: "I don't know when I'll go back. I don't even know the date. I cannot tell you when, and nothing is happening, and I don't get contacted. It's not the best experience."
Some passengers have tried to contact Level to voice their complaints, but have found it difficult to reach them.
In a statement to CBC News, the airline said flights were cancelled due to "operational reasons," and apologised for the disruption.
"Our colleagues are working on re-booking customers onto alternative flights or re-routing everyone affected."
Level said the next flight to Paris may be on Thursday or Saturday, a full week after the originally scheduled departure.
The airline began operating direct flights from Paris to Montreal two weeks ago.
What passengers can do
Under EU rules, the travellers stuck in Montreal are entitled to a refund, a re-routing. or a return flight, as well as assistance and compensation.
Additionally, online services such as flightright, air-indemnite, refundmyticket or air-collect can help travellers whose flights have been cancelled or delayed. These companies directly settle the dispute with the company concerned by taking a percentage of the indemnities awarded.
Lastly, those affected by the cancellations from Montreal to Paris can use the Canadian Transportation Agency. The administrative body says it can "help resolve complaints about air transportation within, to and from Canada, whether you are Canadian or not."