Seven Japanese cult members executed
Comments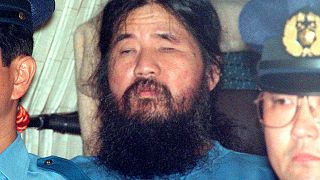 Shoko Asahara, the leader of the Aum Shinrikyo doomsday cult, was executed in Japan on Friday along with another six of his followers.
They were sentenced to death for the 1995 attack on the Tokyo underground that killed thirteen people. The attackers used deadly Sarin nerve gas, originally developed by the Nazis. They left punctured bags filled with the gas on train lines going through Tokyo's political district. Witnesses talked of seeing the packages and then suffering stinging fumes in their eyes.
The images of bodies, many in business suits, sprawled across platforms stunned Japan and triggered public safety steps that remain in force today, such as the removal of non-transparent rubbish bins.
Cult leader Asahara, whose real name was Chizuo Matsumoto, was the first of seven convicted members to be hanged; a further six remain on death row awaiting execution.