Port of Valencia prepares for human cargo
Comments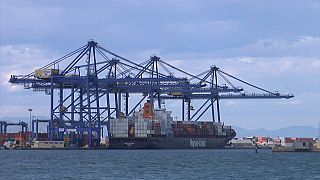 Those who've already made the long journey from Africa to the streets of Valencia have welcomed the decision by the city authorities to take in the 629 passengers on board the Aquarius.
Many locals, too, are getting behind the city's decision, saying they are proud that the regional authorities have taken the initiative and believing it will help boost employment in the city.
The city of Valencia first drafted a plan in 2015 to take in Syrian refugees.
Although it wasn't possible at the time, the new Spanish government has revived the plan.
Mayor Joan Ribo is critical of the European Union.
"The European Union must honour its commitments,'' he says. ''It must comply with its laws and must comply with international commitments. To refuse to accept refugees into a port is not to respect the commitments of the UN, as those countries that have not done so are well aware. We want to do it because Valencia is a city of solidarity.''
Valencia is the biggest commercial port in the Mediterranean, and the fifth biggest in Europe.
But Euronews' correspondent in the city, Carlos Marlasca, said this time it faces a very different challenge.
The port authorities are not used to the kind of cargo that's expected to arrive here in the next few days, Marlasca says.
Nevertheless, the authorities say they are confident that they have sufficient resources and are prepared.
They have also been receiving calls from all over Spain for volunteers offering to come and help with the migrants' arrival.