The search for missing continues in Guatemala
Comments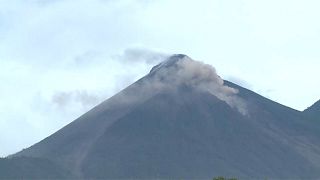 As Guatemala reels from a series of devastating volcanic eruptions, officials have evacuated areas around the Fuego volcano after it spewed out more ash and smoke.
But the families of some 200 missing people have not given up on finding their loved ones - hoping they may still be alive but lost.
A devastated mother screams, "Please, I need my children".
The U.S. government says it will send emergency aid at Guatemala's request, while Mexican authorities sent doctors to help survivors with severe burns, at least seven of whom, in critical condition, were transferred across the border into Mexico.
Forensic experts have begun the grim task of identifying bodies of some of the 109 victims.
They check for items that weren't burned by volcanic flows -- some said to reach temperatures as high as 700 degrees celcius.
Later, they will take genetic material from bones and compare it to blood drawn from people with missing relatives.
The process can take several days and officials say they are trying to get the dead to their families as quickly as possible.