Trump offers US visit to Kim Jong-un if Singapore summit a success
Comments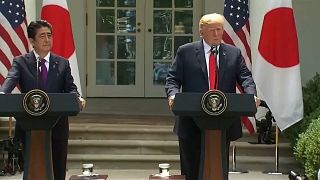 President Donald Trump and Japan's Shinzo Abe say they are in lock step over sanctions against North Korea.
Trump repeated meeting with Kim Jong-un would need results.
"I am totally prepared to walk. It could happen. Maybe it won't be necessary. I hope it won't be necessary to walk, because I really believe that Kim Jung Un wants to do something that will be great for his people that is also great for his family and is great for himself."
Trump warned journalists that if he emerged from the summit still speaking about "maximum pressure" it would be a sign things had gone badly.
"If the summit does go well will you be inviting North Korean leader Kim Jong Un to the United States?" asked one journalist on the White House lawn.
"Well the answer is yes to the second part of your question, certainly if it goes well. And I think it would be well-received. I think he would look at it very favorably, so I think that could happen," replied Trump.
In four day's time, we will find out if the two men can do business.