Judge rules against Deliveroo in landmark decision in Spain
Comments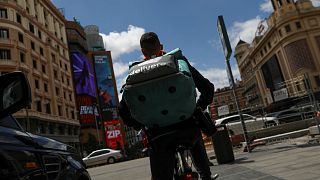 A judge in Spain has ruled against takeaway firm Deliveroo over labour rights it should have granted a former worker, a lawyer has claimed.
The case in Valencia, the first in the country to assess the delivery company's business model, involved fired rider Víctor Sanchez.
The court said Sanchez was used by Deliveroo as a "fake self-employed worker" when he should have been a permanent employee, according to lawyer Adrián Todolí.
Deliveroo, who can appeal the verdict, has been told to pay Sánchez compensation for unfair dismissal, added Todolí.
A spokesperson for Deliveroo said: "Deliveroo riders are self-employed as this gives riders the freedom to choose when and where to work, which is what they tell us they want. Deliveroo will continue to offer riders flexible work, while increasing their security with free, market-leading insurance.
"This case concerns one rider who was on an old contract, which no longer reflects the way riders work with Deliveroo. Where current contracts have been looked at by courts across Europe, legal opinion has judged them to offer genuine self-employment.
"The company will consider the judgement before deciding on next steps."
The decision comes after a report by the Labour Inspectorate of Valencia said Deliveroo riders should be considered as employees because the company "controls the entire production process", from the hours the employee has to work to the tasks he or she has to do.