Deadly superstorms in northern India shatter homes and lives
Comments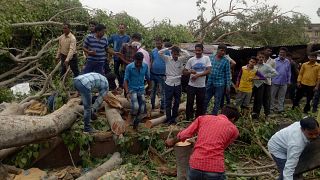 -
More than 120 people are now said to have been killed in severe storms that have swept across northern India.
The dust storms were accompanied by heavy rain and hail in places, causing houses to collapse, toppling trees and leaving more than 160 injured, officials said on Thursday.
New Dehli and the northern Indian states of Uttar Pradesh and Rajasthan were the worst affected. The Times of India reported on Friday that at least 127 people had died, the vast majority in those two states.
The situation was made worse by the fact that the storm was so unexpected, and caught people and rescue services by surprise.
Although the monsoon season is still more than six weeks away, dust storms are said to be an annual phenomenon in the region. However, the intensity of this recent storm was unexpected.
Apart from suffocating in the choking dust most of the deaths were caused by buildings collapsing and lightning striking the ground. High winds brought down power lines and uprooted tens of thousands of trees, while flash floods blocked roads.
The district of Agra in Uttar Pradesh, where the Taj Mahal monument is located, was one of the worst affected areas.