Sargsyan resigns as Armenian PM
Comments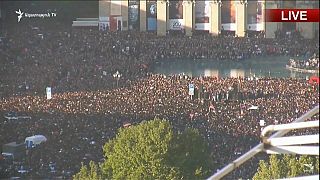 Thousands of Armenians took to the streets of the capital Yerevan to celebrate the announcement that Prime Minister Serge Sargsyan is to step down.
He said he was resigning to help safeguard civic peace following almost two weeks of mass street protests that have plunged the ex-Soviet republic into political crisis.
Reports say former prime minister Karen Karapetyan will take over as acting premier.
The announcement came soon after opposition leader Nikol Pashinyan was released from detention. Pashinyan was arrested on Sunday after televised talks with Sargsyan collapsed.
In what may have been a turning point in the protests, unarmed soldiers wearing military uniforms marched through Yerevan on Monday with protesters in a development the Armenian Defence Ministry condemned as illegal and promised to harshly punish.
Sargsyan was Armenia's president for a decade until this month and faced accusations of clinging to power when parliament elected him as prime minister last week.
The protesters' complaints were mainly domestic and focused on corruption and poverty in a country that won independence from Moscow in 1991 but has been hampered by a conflict with Azerbaijan and other issues.
Under a revised constitution, the prime minister now holds most power in the country, while thepresidency has become largely ceremonial.
Armenia's political parties have seven days to put forward the name of a new prime minister.
Sargsyan's allies remain in key positions in the government and it remains unclear whether his resignation will herald any real change.