Armenia's parliament to vote for new prime minister as protests continue
Comments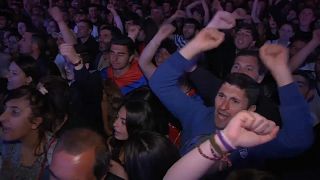 The Armenian parliament will elect a new prime minister on May 1, according to a statement on the parliament's website and the parliamentary speaker. This is expected to be followed by new parliamentary elections.
This comes as anti-government protests in Armenia have continued, despite the demonstrators' success in obtaining their main goal: the resignation of long-standing leader Serzh Sargsyan.
The opposition leader many protesters would like as prime minister, Nikol Pashinyan, had called for more rallies. He wants the whole government to stand down.
Tens of thousands of people have again taken to the streets of the capital Yerevan, after talks between Pashinyan and the acting prime minister broke down.
Armenia's President Armen Sarkissian has called for all political groups, especially in parliament, to work towards "a new Armenia".
Russia, the ex-Soviet republic's close ally, is watching events closely. Russian Foreign Minister Sergei Lavrov held talks in Moscow on Thursday with his Armenian counterpart Eduard Nalbandian, his ministry said.
"Nikol for prime minister!"
Protesters clearly don't see Sargsyan's departure as sufficient. "The fight is not over!" said 21-year-old demonstrator Susana Adamyan.
The main opposition bloc plans to nominate Pashinyan to be the next prime minister, according to one lawmaker. Many protesters chanted "Nikol for prime minister" as they marched through the streets on Wednesday.
The movement received a boost when the second biggest party in parliament said it was joining the protest and would support a "people's candidate" backed by the demontrators. However on Thursday it had reportedly yet to confirm that it would back Pashinyan as prime minister.
"What does 'people's candidate' mean?" acting Prime Minister Karen Karapetyan told a news conference on Wednesday. "I don't know any country where a prime minister is chosen like that. There are elections for that. If he is the people's choice, that means the people will choose him."
Armenia's constitution dictates that in the event of the prime minister's resignation, parliamentary factions nominate candidates within seven days and the National Assembly then elects the new premier by a majority.
Pashinyan, has spent part of Thursday meeting other parliamentary factions in a bid to boost support for his candidacy. There are doubts over whether he can muster enough support, despite the growing strength of his opposition alliance.
The leader of the Civil Contract party also joined a group of protesters in the capital.
Opposition distrust
The people on the streets don't trust Karapetyan's assurances. The acting prime minister used to be premier and is seen as close to Sargsyan and an establishment figure. The legitimacy of past election results has been called into question.
Many of the protesters are young and born after Armenia achieved independence in 1991. They have seen the ruling Republican Party dominate parliament for over 20 years, a poorly-performing economy and social stagnation.
Sargsyan's unpopularity deepened when, after a decade as president, he was then chosen by parliament earlier this month to become prime minister – a role he had previously said he would not seek, and whose powers had been significantly boosted by constitutional changes he pushed through.
Pashinyan – whose 24-hour detention and then release earlier this week was the catalyst for Sargsyan's resignation – wants an interim government to be formed, with a leader perhaps chosen by the demonstrators in Yerevan's central square. This new administration would then ensure fair and free elections.
Russia 'will not intervene'
Protest organiser Nikol Pashinyan said he had met a Russian official and been assured that Moscow would not intervene in the crisis. Russia has two military bases in Armenia and there are close economic links.
The Kremlin said that President Vladimir Putin spoke on the phone with his Armenian counterpart Armen Sarkissian on Wednesday. They called on all parties to "display restraint, responsibility" and a will to resolve issues through "constructive dialogue and strictly within the constitutional framework".
Some analysts have seen this last phrase as a warning that a people-led revolution, outside the realms of parliament or the constitution, would not be admissible for Moscow.
Officially however, although Pashinyan has talked of a "velvet revolution" and the demonstrations bring to mind other "colour revolutions" in former Soviet countries that have stirred Moscow's anger, the Kremlin has seen no cause for action.
"For now we see that the situation is not unfolding in a destabilising way which is a cause for satisfaction," Kremln spokesman Dmitry Peskov said on Tuesday.