Armenia marks Remembrance Day following Sargsyan's resignation
Comments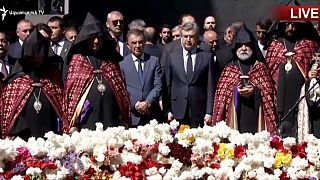 At a hill-top memorial in Yerevan, thousands of Armenians gather to remember the massacre of 1.5 million of their people by Ottoman Turks a century ago.
This year's Remeberace Day falls amid great political uncertainty, coming just a day after former Armenian President Serzh Sargsyan resigned from his newly appointed post of Prime Minister.
11 days of street protests turned into joyous celebrations. Demonstrators had accused him of 'clinging to power' following his 10 years as President.
Arman Abgarian is a Musician and came out to celebrate a new era of Armenian politics. He says; "We did something that people could not do in 20 years. The thing that we need to do first is to change all the government members because, you know, corruption is a huge thing in Armenia. This will be changed,"
Marine Uzunian is a housewife in Armenian. She says; "Finally we got rid of this… how to say… dictator,"
Sevak Tigranian, an Armenian Economist, says; _"I am glad he made the right decision and gave the authority to people."
_
Armen Sukiasian told reporters; "Now new authorities will come, and we will be the ones making our future."
Monday's ugly scenes on the streets of Armenia's capital city Yerevan had threatened to plunge Armenia into a political crisis.
Unarmed soliders joined anti-government protests heaping pressure on 63 year old Serzh Sargsyan.
Following Sargsyan's unexpected resignation, Russia who's one of Armenia's key allies, says it doesn't regard the situation as a Ukraine-style revolution.
Now Armenia's political parties have a week to put forward the name of a new Prime Mninister