India approves death penalty for child rapists
Comments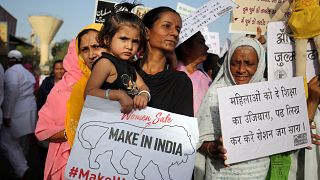 -
Copyright

REUTERS/Amit Dave
India's cabinet on Saturday approved the introduction of the death penalty for child rapists after recent cases shocked the country into nationwide protests.
The decision was taken after Prime Minister Narendra Modi called an emergency meeting of his cabinet upon his return from an official visit to Europe. The law is expected to come into effect in six-month-time, once it is signed by the President.
Nationwide protests started earlier this month after police revealed that an eight-year-old Muslim girl had been gang-raped by Hindu men in an Indian-administered part of Kashmir, back in January.
They were further stoked last week after a member of the ruling Bharatiya Janata Party was accused of raping a 16-year-old girl in the northern Uttar Pradesh state.
India toughened its rape law in 2012 — after the gang-rape and murder of a student on a Delhi bus shocked the world — by introducing fast-track courts.
But it did little to stem the issue. According to statistics from India's National Crime Records Bureau, there were 18,862 reported cases of child rapes in 2016, averaging at over 50 per day. Additionally, there were nearly 39,000 reported cases of rape against women.
The new executive order allows for capital punishment for anyone convicted of raping children under the age of 12 as well as increase minimum sentences for rapes against girls under the age of 16 and women.
But according to Reuters, the new document made no mention of the rape of boys or men, which many have been criticizing online
The death penalty is rarely carried out in India.
Although four men were sentenced to death for the 2012 gang-rape and murder of a Delhi student, their sentences have not yet been carried out.