India: woman set on fire after 'police fail to respond to attack complaint'
Comments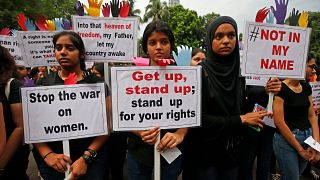 -
A woman in India was set on fire by the same men who tried to molest her just days earlier, authorities say.
The 20-year-old was in a field near her home in Uttar Pradesh when two men tried to drag her away, the woman's brother Vinod Kumar told Reuters.
She fled the scene after biting their hands, added Kumar.
That same day the father lodged a complaint to the police, but, after no action was allegedly taken, the family filed a second complaint.
"We waited for the police to come for enquiries the entire day but no one came," Vinod said.
Two days after the incident, the men returned to the same field where the woman worked, doused her with kerosene and set her on fire, according to the regional police superintendent, Prabhakar Chaudhary.
The woman was hospitalised and suffered burns of 40% to her body.
Chaudhary said the suspected attackers were arrested and three policemen were suspended for failing to fulfil their duties.
India has toughened its rape laws after a gang rape of a woman in 2012 sparked international outcry.
Convicted attackers can face the death penalty.
But crime statistics have indicated that sexual assault on women has risen since then.
Only a small fraction of assault crimes are reported to police, but few are looked into. Between 2012 and 2016, police investigated only a third of the crimes reported to them.
Rights groups have ¨said because of police apathy and pressure from local politicians, many investigations get buried.