UN Security Council to meet over alleged chemical attack in Syria
Comments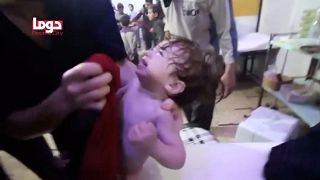 The UN Security Council will meet on Monday after a suspected chemical attack in the Eastern Ghouta region of Syria on Saturday.
At least 70 people including children are known to have died in the rebel-held town of Douma.
Experts claim the evidence points to the use of a chemical agent and are once again blaming the Syrian regime.
"2013 was a hallmark attack after which Syria was supposed to dismantle, having declared all their chemical warfare agent stocks," said Andy Oppenheimer, a nuclear, biological and chemical weapons expert. "They had a considerable stock, probably the biggest in the world after the main superpowers, but they obviously haven't declared all of it and they certainly didn't declare any of their chlorine."
International condemnation has been widespread with U.S President Trump hitting out at the Syrian President Bashar al-Assad saying there will be a high price to pay.
Both Syria and its ally Russia have denied a chemical attack took place in the area, which is near the capital Damascus. It was Russia that was first to request that the Security Council meet though no specific reason was given. That request was closely followed by another from the United States, France, Britain, Sweden, Poland, the Netherlands, Kuwait, Peru and Ivory Coast. Their request specifically named the alleged chemical attack as the reason for the meeting.