How a big harpoon could be Europe's answer to catching its out-of-control satellite
Comments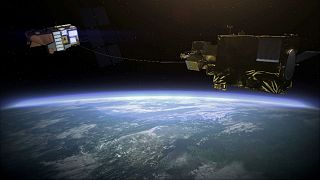 Engineering giant Airbus is testing a big harpoon to snare space debris like wayward or no-longer-wanted satellites.
The metre-long spear-like object would be attached to a strong tether and fired from a spacecraft.
It is part of industry efforts to tackle the growing problem of space junk — redundant hardware that poses a collision threat to other things in orbit.
For example, European space chiefs are looking at ways of catching environmental satellite Envisat.
After years of gathering vital information about our planet, it is now tumbling out of control at very high speeds.
While current calculations suggest it will take 150 years to come crashing down to Earth, the European Space Agency is looking at ways of bringing it under control, including Airbus Defence and Space's harpoon.
Next month a mission called RemoveDebris — which has received funding from the European Commission — will use a miniature version of the harpoon to test how such technology behaves in space.
However, the new technology has come too late for Chinese space station Tiangong-1, or Heavenly Palace, which is set to come crashing to Earth later in March or next month.
It's far more likely that the debris will land in the sea, but experts cannot rule out it hitting a populated part of our planet.
Meanwhile, new satellites now have their end-of-life plans mapped out, meaning it's unlikely they'll need to be retrieved by a harpoon.