French 'super burglar' stashed several thousand random stolen objects at home
Comments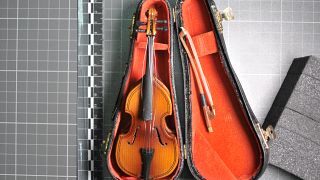 Police in the southwestern French region of Gironde stumbled on a treasure trove of stolen goods at the home of a suspected serial burglar.
They were lead to what local media branded a veritable "Ali Baba's cave" after the military arrested the suspect, a native of the Bay of Arcachon, in December.
Several thousand objects were listed on the constabulary's Facebook page including a whopping 498 engagement and wedding rings, collector coins, cutlery, watches as well as electronic goods.
Also listed on the police website were pictures of stolen items including 149 wallets, purses and bags, dozens of bottles of wines, champagnes and whiskies, 39 pens, and 122 beauty products, including designer perfumes by Chanel.
Among the booty was also a minature violin, just 19 cm long, various guns and a paté gift set.
The post said the man was arrested under the suspicion of carrying out "many burglaries" in Gironde and in "different the departments of the New Aquitaine region".
Such was the scale of the thefts that police set up a special website for victims to find their stolen items.
"Given the number of objects seized, (stolen) items that can go back as far as 2015 and the geographical extent of the area of activity of this solitary burglar, the identification of all victims is difficult and requires the establishment of a website where all discovered objects are available to find their rightful owner," the constabulary wrote on Facebook.
It said those claiming back stolen items would be required to justify their ownership to a police interviewer before it would be returned to them.