China furious after American 'steals terracotta warrior's thumb' at museum
Comments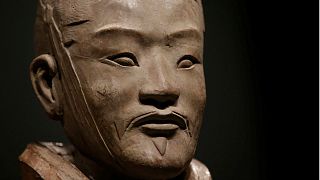 Chinese officials have demanded an American man be "severely punished" after he was accused of stealing the thumb of one of the famed terracotta army while it was on display in Philadelphia. 
Michael Rohana was attending an "ugly Christmas jumper party" at the Franklin Institute in Philadelphia when he snuck off into the restricted Terracotta Warriors of the First Emperor exhibition, according to court documents.
He then allegedly used his phone to inspect the 2,000-year-old statues, taking a selfie with one before going in for a more permanent memento, snapping its thumb off and putting it in his pocket, according to the FBI.
The FBI traced the item back to Rohana after the Philadelphia museum noticed it was missing on January 8.
He admitted to keeping it in a desk drawer and was last week charged with theft and concealment of a major artwork and released on bail.
The statue, valued at $4.5 million (€3.6 million), was one of 10 loaned to the institute.
"We ask that the US severely punish the perpetrator. We have lodged a serious protest with them," said Wu Haiyun, director of the government institution, which loans out the statues.
Wu also "strongly condemned" the Franklin Institute for not looking after the statues, according to CCTV.
He added that the Shaanxi Cultural Heritage Promotion Centre would be sending two experts to Philidelphia to repair the figure and that it would be seeking compensation.
The terracotta army is a group of life-sized statues depicting the armies of the first Emperor of China that were buried with him in 210 BCE.
It is often heralded as one of the greatest archaeological finds of the 20th Century after farmers stumbled across the tomb in 1974 in Lintong District, Xi'an, Shaanxi province.