Spanish police catch fruit thieves red-handed in orange heist
Comments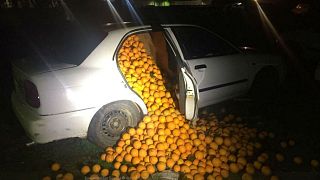 Copyright

Twitter/EmergenciasSev
Police in Seville, Spain, caught five people with 4,000 kilos of stolen oranges earlier this week.
Authorities became suspicious when they saw three cars travelling close together on the Torreblanca-Mairena del Alcor highway in the region of Seville, said Spanish news website europapress.
When the drivers saw the police cars ahead, they abruptly changed direction, alarming authorities even more.
After a brief car chase, police pulled over two of the three cars to discover that the vehicles were jam-packed with oranges.
The drivers were unable to explain where the oranges came from, saying the "fruit came from very far away and that they had picked them up from the ground."
Police later found a van also full of oranges. 
The fruit and the vehicles were confiscated by police and five people were arrested for stealing the fruit from a warehouse in Carmona near Seville.