UK eyes Brexit transition deal in march
Comments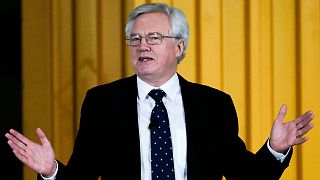 Brexit Secretary David Davis said on Friday he's confident the UK can reach a deal on a transition period at an EU council meeting in March.
This so-called implementation period, which should start in March 2019 and could last until the end of 2020, aims to give both the UK and the EU time to prepare for the full impact of their divorce.
British and EU Brexit negotiators are expected to speed up talks on the matter, and to hold meetings in Brussels roughly every two weeks instead of the monthly round of negotiations they had last year.
"Speed is of the essence. Because the longer we talk, keep talking about the implementation period, the less valuable it becomes to the businesses right across Europe," Davis said in a speech outlining his view of a post-Brexit transition.
During this transitional period, Davis said the UK should remain bound to EU customs and market rules, but that it should have a say over EU laws passed and should be able to sign new trade deals outside the bloc.
The topic continues to deeply divide Theresa May's cabinet.
Chancellor Philip Hammond came under fire from hardline Brexiteers for saying in Davos on Thursday (January 25) that the British and EU economies should move only very modestly apart after Brexit.
On Friday, he sought to clarify his comments.
"We've got to stick to the middle way, which is negotiating the maximum access we can get to European markets, compatible with the red lines that we've already set out, about repatriating control over our laws, our borders, and our money," Hammond said.