Davis sets out vision of Britain's post-Brexit global relations
Comments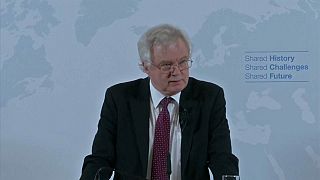 Britain will not undercut its EU rivals post Brexit to access markets.
That is the promise made by the UK's Brexit minister.
David Davis has dismissed fears Britain will cut regulation to attract business, despite past threats
Instead, in a speech to business leaders in the Austrian capital Vienna he proposed a system of "mutual recognition."
"They fear that Brexit could lead to an Anglo-Saxon race to the bottom, with Britain plunged into a Mad Max style world borrowed from dystopian fiction. These fears about a race to the bottom are based on nothing. Not our history, not our intentions, not our national interest," said Davis.
Davis' address was meant to reassure business leaders over the UK's Brexit plans.
It is too early to say whether it has had the desired effect but the Twittersphere has taken up the Mad Max theme.
Thousands have reacted with their own vision of what film best represents Britain post-Brexit.
Among the most popular are the original Planet of the Apes, Groundhog Day and One Flew over the Cuckoo's Nest.