Catalonia's separatist parties nominate ousted leader to head new government
Comments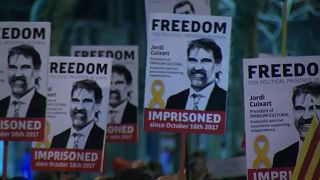 Catalan independence supporters in Barcelona have held a march ahead of the first session of the region's new parliament after December's snap elections.
They were calling for the release of two jailed civic leaders after their part in Catalonia's banned independence drive. One has been elected an MP
Meanwhile Catalan leader Carles Puigdemont who was ousted as part of the Spanish government's takeover of the region has been nominated by separatist parties to lead the new regional government, despite being in exile in Belgium.
The December elections were called to resolve months of secessionist unrest but the poll returned a slim majority for parties favouring independence. The first parliamentary session could prove a major headache for Madrid.