Puigdemont withdraws candidacy for Catalan presidency
Comments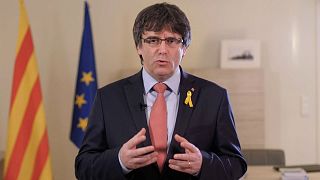 Copyright

Carles Puidgemont/Handout via REUTERS
Catalonia's former leader Carles Puigdemont has announced he is withdrawing his bid to be re-appointed president of the northeastern Spanish region.
In an address shared on his social media accounts on Thursday night, the politician said the decision to "provisionally" call off his candidacy  "is founded in one reason only — under current conditions it's the way to get a new government under way".
Puigdemont said his party would propose pro-secession campaigner Jordi Sanchez — currently in remand in a Madrid prison on charges of sedition — as an alternative candidate.
The announcement marked a blow to Catalonia's separatist movement.
The Catalan parliament made unilateral declaration of independence following a referendum in October, after which Puigdemont and his administration were sacked by Spanish Prime Minister Mariano Rajoy and he fled into self-imposed exile in Brussels.
Pro-independence parties won a majority in elections that Rajoy called in Catalonia in December, and Puigdemont had campaigned to be re-instated as the region's leader. Supporters had suggested he could govern remotely.
Puigdemont faces charges of sedition and rebellion if he returns to Spain.